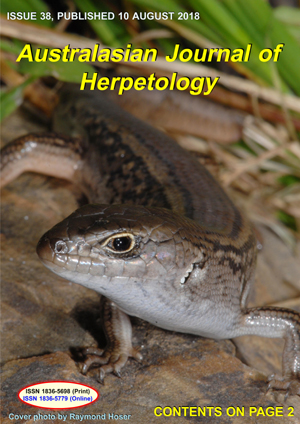 Australasian Journal of Herpetology ®

ISSN 1836-5698 (Print)
ISSN 1836-5779 (Online)
Identical print and online versions are published simultaneously.
Download copies of all published issues - Click here.

Subscription details – print or online?
Published issues - Click here.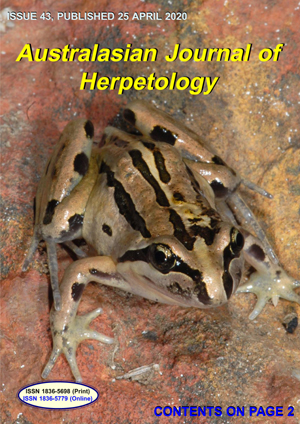 Australasian Journal of Herpetology ®
ISSN 1836-5698 (Print), ISSN 1836-5779 (Online).
In over a decade, the Australasian Journal of Herpetology has established a reputation as one of the world's leading scientific journals in the biological sciences. Specializing in reptiles and frogs, but covering a far wider area, this journal's contents appear in all the main indexes and is regularly cited in peer reviewed and other publications in all parts of the world.
Published simultaneously in print and online (online published one month after hard copy print run of at least 50, plus or minus up to a week), it was orginally designed to fill a potential void in the scientific literature.
Subjected to a formalized "peer review" process, it is of high quality and aims to provide in permanent record, important contributions to the biological sciences. While our title suggests our core area of interest, we publish important material relating to other areas of biological science.
Included here are the subjects of classification, ecology, legal and captivity, including from regions outside Australasia and about all living things.
The journal's advantages over other publications in the same space include the following:
Strict procedures in place to avoid undue censorship of material that may be unpleasant to vested or powerful interests, enabling publication of quality material, including of a leading nature that may be refused elsewhere.
The "peer review" process is formalized and effectively restricted to factual correctness and quality control, enabling authors maximum control over what they publish and how it appears in final published form.
Publication and distribution in print form to enable strict compliance with the ICZN's International Code of Zoological Nomenclature and other relevant codes and rules by bodies governing the biological sciences.
Simultaneous internet publication and access via a well-known name server (www.herp.net) to enable the widest possible and most rapid distribution of the work, enabling rapid dissemination of key outcomes.
A pre-publication process that is open, transparent and allows important work to be properly published at a speed far quicker than many comparable publications, including as requested by authors.
We also publish long papers and monographs that may not be published elsewhere or alternatively are drastically cut short in the editorial process (by removal of large blocks of relevant data and evidentiary material), thereby reducing overall quality of material or forcing interested persons to contact authors post publication seeking extra data.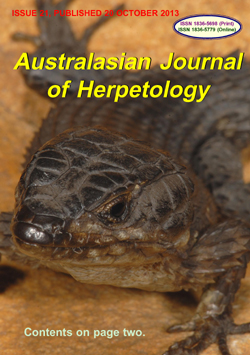 Australasian Journal of Herpetology editions are numbered simply and sequentially, and often only contains a single paper, making distribution simple and effective in that potential readers are able to obtain only the paper/s that interest them, as opposed to excessive amounts of paperwork that is not read and/or wastes space and resources.
There are no burdensome costs for "subscribers".
The "single paper per issue" policy for issues 1-9 was discontinued after that (2010) when all published issues ran to 64 pages with larger papers spread across multiple issues.
Print copies are distributed at low cost as seen on the relevant pages selling copies, until the first print run is exhausted. In the years to 2020, sold out issues have been reprinted in lots of 50 in identical form to satisfy demand.
Print and online editions are of identical appearance making citation and the like elsewhere simple and effective.
Publication size is A4 being the most effective size for reading, copying and distribution, with general use of fonts and the like designed for maximum results.
Our policy of "simple language when possible" enables authors to target their findings to the maximum possible audience.
While authors bear print publishing costs, these are levied at around cost and are generally affordable to all likely contributors. This enables the use of colour as required giving publications maximum potential impact or benefit.
All published authors receive pdf copies of their papers a month after publication (plus or minus up to a week) for immediate dissemination.
Save for the requirements of the work to be original and "new" (see author's guidelines), and of factual correctness and integrity of experimental data presented, as well as quality control, the editors have no vested interests or refusal policy.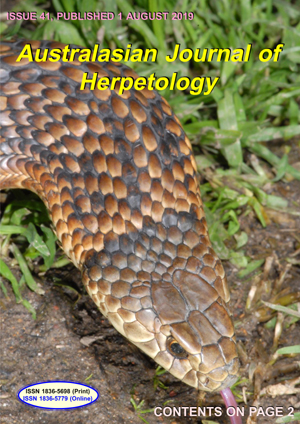 Published by Kotabi Pty Ltd
PO Box 599
Doncaster, Victoria, 3108.
Australia.
E-mail: Please use the e-mail address at the:
"Snakebusters" bookings webpage.
Please note e-mails not answered should be deemed "not sent" or "not received".
Return to the Australasian Journal of Herpetology front page.
Australasian Journal of Herpetology ® legal statement.

<![if !supportEmptyParas]> <![endif]>

<![if !supportEmptyParas]> <![endif]>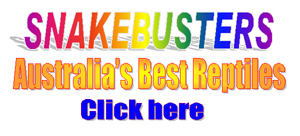 Other Snakebusters websites:
kids parties Melbourne, reptile displays, snake handling courses, reptile education, corporate shows in Melbourne, reptile shows in Melbourne, educating people about reptiles in Melbourne